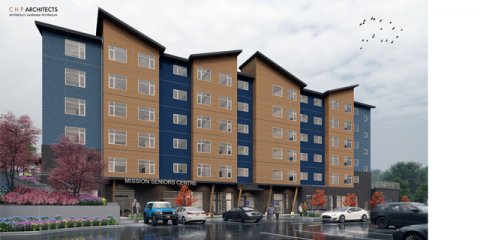 Mission Association for Seniors Housing (MASH) celebrates the groundbreaking of their new seniors centre and affordable housing project. This exciting new building is being constructed on District of Mission-owned property adjacent to the Mission Leisure Centre on Grand Street.
The project brings together housing and amenities for Mission's seniors community. The six storey building features an 11,000 square foot seniors centre with multi-purpose rooms, a kitchen, dining hall, billiards and games room, offices and community space as well as 74 studio, one and two bedroom housing units.
The project has received funding under the Building BC: Community Housing Fund. The Mission Foundation is also contributing $500,000 towards the capital cost of building the Community Centre, an amount generously donated through the Marilyn Boswyk Memorial Fund. Marilyn was well known in the Mission community; she and her family have been passionate supporters of education, the arts and seniors. The new building is named in her honour.
The project is anticipated to open in the spring of 2021.