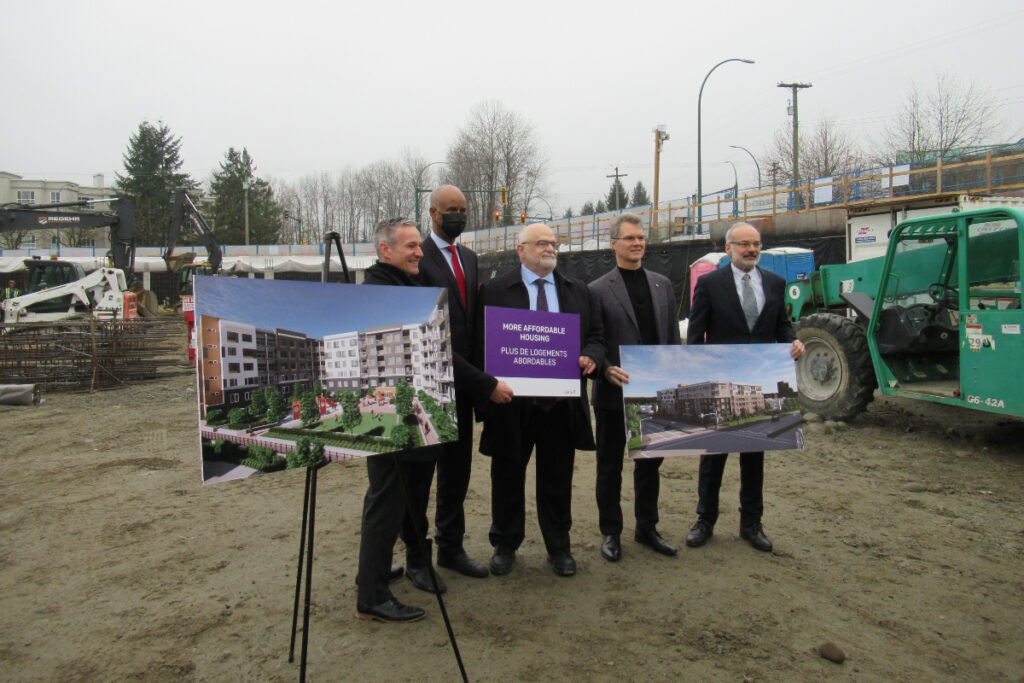 Affordable Housing Societies' new project in Coquitlam celebrated the start of construction today with a launch at the project site. Located at 3100 Ozada Avenue, this project is the redevelopment of the Society's Pinetree Court project, which Affordable has owned and operated since 1983. The site is well located for families, close to amenities and services, schools, parks, shopping, the community centre, the hospital and the LaFarge Lake Skytrain station, but was underutilized and the building was approaching the end of its usable life.
Ron McKinnon (MP for Coquitlam and Port Coquitlam), Ahmed Hussen (Minister of Housing and Diversity and Inclusion), Fin Donnelly (MLA for Coquitlam-Burke Mountain) and Mayor of Coquitlam Richard Stewart joined Affordable Housing CEO Stephen Bennett to address the gathering of well wishers cheering on the project.
As host of the event Ron McKinnon stated "more affordable housing options are coming for those who need them most in Coquitlam".
Minister Hussen reiterated "we are investing in the hopes and dreams of British Columbians".
Named for the late Robert Nicklin, long-time CEO of Affordable, the new building will bring 164 units of much-needed family housing in a 6-storey building. The project has a mix of one, two and three bedroom units as well as indoor and outdoor amenity spaces including a multi-purpose room and a garden courtyard.
Terra has worked with Affordable since 1984, together completing over 2000 new units. Terra assisted the Society to secure funding and lending for the project, submitting successful applications to three levels of government – the CMHC Co-Investment Fund, the Community Housing Fund and the City of Coquitlam Affordable Housing Reserve Fund and has been providing development management services to move the project forward for the past four years.